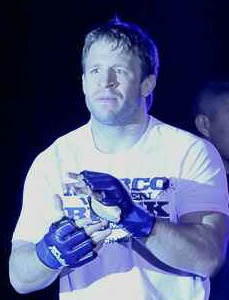 Professional Mixed Martial Artist and former Collegiate and Olympic Style Wrestler Nick Fekete joins the staff at Fight Fitness Center. Nick brings in over 25 years of Combat Sport experience as an athlete and coach, and has achieved much success on all levels of competition. In his prep career Nick attended Cranford High School, where he was a 3 time NJ State Place-winner in Wrestling, earning a State Runner-Up finish as a senior. Nick was also a Cadet (16 and under) and Junior (18 and under) Freestyle National Champion, a Cadet Greco-Roman National Champion, and a member of the 1996 Cadet Freestyle Wrestling US World Team.
A graduate of Michigan State University, Nick was Co-Captain for 2 years and earned NCAA Division 1 All-American honors at 197 lbs. While at MSU, Nick was also a University (25 years and under) Freestyle National Runner-up and National Champion.
Upon graduation from MSU, Nick took his talents to the Open level and the National and International Circuit. In the period of 2004-2008, Nick was a two-time finalist at the US Open Nationals, and he metaled at several prestigious international events earning Bronze at the Ivan Yarygin International Grand Prix, the Aleksandr Medved Open, the New York Athletic Club Open (2x); Silver at the Henri Delagne Challenge; and Gold at the Sunkist Kids Open, the Hargobind International Open, the Henri Delagne Challenge. Nick was the 2006 Pan-American Freestyle Champion, and he was a member of the 2006 US National Team. Ultimately Nick finished 5th place at the 2008 Olympic Trials in Freestyle Wrestling.
At the conclusion of Nick's Wrestling career, he began training in Mixed Martial Arts. He served as the inaugural Wrestling Coach at Xtreme Couture in Las Vegas, while training boxing, kickboxing and Grappling. Nick amassed a 5-1 professional MMA record and is a Bellator MMA veteran and appeared on the the UFC's Season 17 of TUF (The Ultimate Fighter).